THE LIVING MOON
The Enigmas on the Moon
O
Anomalies in Copernicus Crater
Catalog By Grid Map Reference
.
"Cross"
GRID O-2a

This one is to the right of the "Box", left border of O-2.
Comments: The Cross is one of the landmarks to compare locations between C#2 and C#5
"Star & Triangle"
GRID O-2b

The white triangle is interesting, but the perfect star is a true enigma. To the left and right of the star are more interesting ojects that need investigating.

Comments:
"Snoopy Glitch"
GRID O-1a

This odd looking "artifact" or "moon creature" is one of those "processing artifacts that NASA claims are in their photos. Though the actual source of this glitch is unknown, the fact that it IS a glitch and not an anomaly is evident as it repeats on the rest of the scan strips down the O Grid line.

This one is the clearest and most likely to draw attention. My daughter named this one. Its included here to eliminate it as an anomaly
Comments:
"Caves 01"
GRID O-3a

These openings are in the face wall of the rock below the "Box". This means they are either natural caves, or mine openings. If you look closely in the large one you will see thin lines that might indicate some structures
More Info
Comments:
"Venting Tank"
GRID O-3b

This object is exhibits extremely bright reflection. From the left you can clearly see venting gases evident by the "V" shaped dispersal pattern. The vertical object on the right is a negative flaw.


More Info
Comments:
"Water
Tower"
GRID O-3c

These objects are on the ridge below the "Box"
Left

"Airplane"

So named as it resembles an airplane. It is perhaps a craft of some kind or a structure
Center

"Trusses"

In front of the "Airplane" you can see angular truss work. Perhaps supports for a walkway or tube of some sort
Right
Comments:
"Glitch 01"
GRID O-3d

This mark is a scanning glitch onboard the orbiter. It recurs in the same location on every scan strip of the image. For that reasom it is NOT a flaw on the film or a developing error. The lower half of the anomaly however bears more study as it shows ONLY on this section. They appear from O-1 thru O-18. The one on the right is for comparison taken from O-2
Comments:
"White Rectangle"
GRID O-4a

This white rectangle glares out at you when you look at the center of the big picture. It is either missing transmission data, though that is usually black, or it is evidence of tampering. No conclusion as yet on this anomaly.

Comments:
"More Tanks 2"
GRID O-4b

These rounded oblong objects appear to be some sort of tank. Again the detail is to small to make a conclusion, other than they do not appear to be natural.
Comments: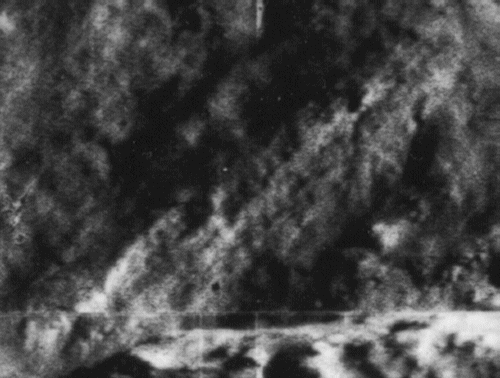 "Angle Rock 5"
GRID O-5 (O-4 TO P-5)
This is one of several clearly identifiable landmarks that allow us to match locations in C#1-4 and C#5. It is an angular rock formation that shows bright veins aganst a dark background. It is this type of feature that would instantly attract any geologist, prospector or rockhound.
Comments:
"Silo & Machine"
GRID O-8a

This one is on the top of the hill that has the "Bone Yard" beneath it.

This is a huge "machine" or other structure. Similar objects like this have been called "X Drones"



Colorized and labeled to highlight details
Comments:
"The cross like machines are what George Leonard called "X-Drones" in "Somebody Else Is On The Moon". - John Lear
"Bone Yard A2"
GRID O-9

This area is to the right of the previous area. It is difficukt to make out any detail because of the brightness of the objects.

Sepia Tone to highlight detail.
The area gives the impression of a scrap yard with sun glinting off of metal.
Comments:
"Enigma S" Area C #5
GRID 5O-12a

Here we see a whole collection of spheres, with one larger and darker one roughly in the center.
Comments:
"Facility 02"
GRID O-7a

There are a lot of structures here showing arches and parallel lines, even openings


Found by John Lear

NOTE

NEED TO RESAMPLE
Comments:
"Balls on Pyramid"
GRID 5O-2

These rounded oblong shadows sitting on pyramid shadows are extremely unusual. As yet we have no idea what they represent.
Comments:
Join the live discussion on Anomalies on the Moon and on Mars
at Above Top Secret Discussion Forum
Grid Menu
Copyright Notice
All clipped images and enhancements on these pages are copyright ©2006 Land of Legends. All text related to the clips and enhancements unless otherwise noted is are copyright ©2006 Land of Legends.

All other pictures and photos on this page, unless otherwise noted, have been gathered from public domain sources or are available under GNU License. Further documentation is available on our Copyright Page and our Legal Department.
Article Quotes all have links to their appropriate source and are noted.
All information quoted or referred to on this page is used only for non profit educational purposes. All reasonable attempts have been made that no credits are missed, but with a work of this size omissions may occur. If you see anything of yours that has not been properly credited or wish to have removed please contact the Webmaster