Rocket carries secret spacecraft
December 11, 2007
BY TODD HALVORSON
FLORIDA TODAY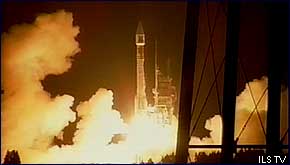 A Lockheed Martin-built Atlas 2AS rocket lifts off from Cape Canaveral on Tuesday with a secret satellite for the National Reconnaissance Office aboard.

CAPE CANAVERAL - A secret national security satellite is winging its way around the planet today after a roaring rocket launch from Cape Canaveral.

The Monday liftoff of the United Launch Alliance Atlas 5 rocket came less than 36 hours after NASA scrubbed the planned launch of shuttle Atlantis, a turnaround that took a monumental effort.

"It was awesome," said ULA communications director Mike Rein. "And we appreciate everything the 45th Space Wing did to reconfigure the range after yesterday's shuttle scrub to make it happen."

The Air Force's 45th Space Wing, based at Patrick Air Force Base, operates the nation's primary east coast rocket range, providing radar tracking, range safety and weather forecasting services for all launches from Cape Canaveral Air Force Station and NASA's Kennedy Space Center.

It typically takes two days to reset range systems between launches. The quick turnaround made it possible to pick up the Atlas 5 countdown Monday afternoon and send the rocket aloft at 5:05 p.m.

There was a two-minute delay to make certain the rocket wouldn't collide with the International Space Station as the outpost passed over the Cape.

Then the rocket rumbled off its oceanfront launch pad with a crackling roar, hurling a classified National Reconnaissance Office payload toward orbit.

Craig Covault, senior editor of the trade magazine Aviation Week and Space Technology, said the clandestine cargo was a spacecraft that relays images and other data to the ground from other NRO satellites.