NAVY SECRETS

AUTEC
Atlantic Undersea Test and Evaluation Center


The AUTEC complex on Andros Island in the Bahamas in 1974. The installation is facing the Tongue of the Ocean,
which contains deep-water hydrophones used in AUTEC's underwater testing.
The United States Navy's Atlantic Undersea Test and Evaluation Center (AUTEC) is a laboratory that performs integrated three-dimensional hydrospace/aerospace trajectory measurements covering the entire spectrum of undersea simulated warfare — calibration, classifications, detection, and destruction. Its mission is to assist in establishing and maintaining naval ability of the United States through testing, evaluation, and underwater research.

General information

The sophisticated facility includes three test ranges — the Weapons Range, the Acoustic Range, and the FORACS Range — all located in the Tongue of the ocean (TOTO), a deep-ocean basin approximately 100 nautical miles (190 km) long by 15 nautical miles (28 km) wide, with depths as great as 6,000 feet (1,800 m). The main AUTEC support base and downrange tracking stations are on Andros Island in the Bahamas, just west of Nassau and about 180 nautical miles (333 km) southeast of West Palm Beach, Florida.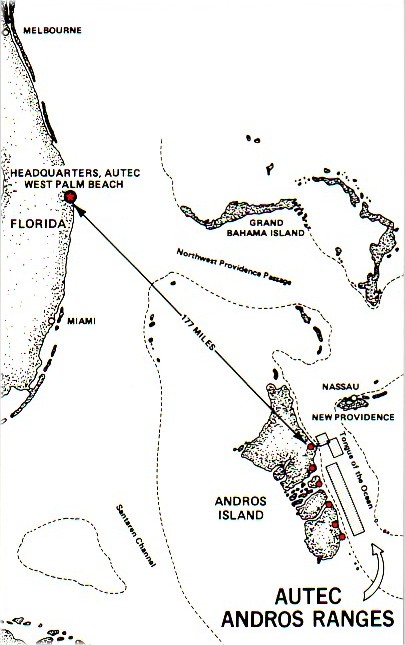 Atlantic Undersea Test and Evaluation Center (AUTEC) with border.


Deep water range

The deep water Weapons Range lies roughly parallel to the east coast of Andros Island. It is the largest and most versatile of the AUTEC ranges, and it is capable of tracking up to 63 in-water objects simultaneously. The range is supported by the Main Base (Site 1) and various smaller sites located to the south along the east coast of Andros Island. AN/WQC-2A Sonar Communications Sets and Bi-Directional Communications Nodes provide underwater voice communications for mobile target and emergency command signal coverage, while HF, UHF, and VHF radio communications are available over the entire range.

In-air tracking

In-air tracking is provided by radars and various other in-air tracking systems such as LATR, the Hyperbolic In-Air Tracking System (HITS), and Differential GPS (DGPS). These in-air systems cover the AUTEC Weapons Range up to a distance of 500 nautical miles (930 km) from Site 1 and a height of 70,000 feet (21,000 m). Surveillance radars operate to support air and surface safety.

In-water tracking

The in-water portion of the Weapons Range covers 500 square nautical miles (1,700 km²). This range can be divided into two distinct tracking areas consisting of roughly 250 square nautical miles (850 km²). This flexibility allows for the unique operation of two distinct individual exercises. Use of the total range is referred to as "Weapons Range", while dividing the range into two distinct portions, the northern section is referred to as "Weapons Range North", whereas the southern portion is called "Weapons Range South".

Electronic Warfare Threat Simulator

Electronic Warfare Threat Simulator (EWTS) is a real-time system that can generate complex, dynamic, electromagnetic signal environments at the radio frequency (RF) level. With this system, AUTEC offers capabilities to test different platform receivers in an open-air, over-the-water range. The system consists of a radar simulator, pedestal and controller, antennas, high-power amplifiers, calibration equipment, and an operator workstation. The system is housed in an air-conditioned radome and located on a 74-foot (23 m) tower.

Tasks

The typical task performed at AUTEC is testing and certifying the proficiency of U.S. Navy submarine captains and their crews, as well as the accuracy of their undersea weapons.

Brief history of AUTEC

During the 1940s and 1950s, the U.S. Navy's need for a deep water test facility became so apparent that in 1958 the Chief of Naval Operations established an advisory group to determine the location and specifications for testing underwater vehicles, weapons, and weapon systems. As a result of the extensive studies of this group, the United States Secretary of the Navy in November 1959 directed establishment of the Atlantic Undersea Test and Evaluation Center (AUTEC) under the Bureau of Ships (now Naval Sea Systems Command) to provide a deep water test and evaluation facility for making underwater acoustic measurement, testing sonar, and providing accurate underwater, surface and air tracking data on ships and weapons in support of the U.S. Navy's antisubmarine and undersea research and development programs.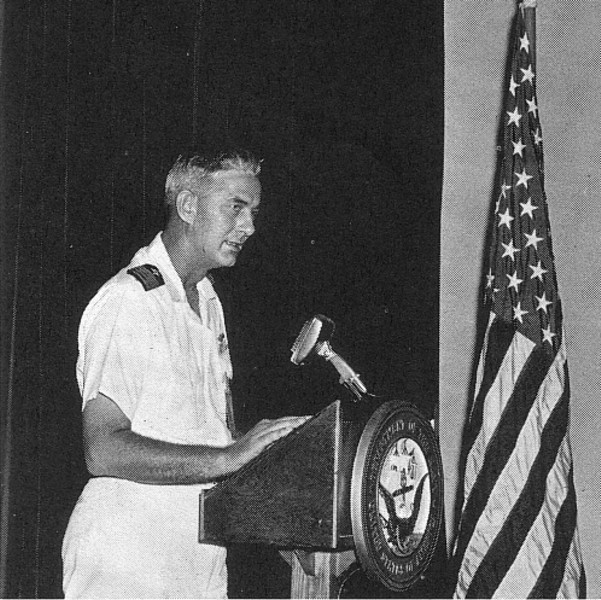 Captain L. L. Jackson, Jr., USN, Commanding Officer, AUTEC, 1969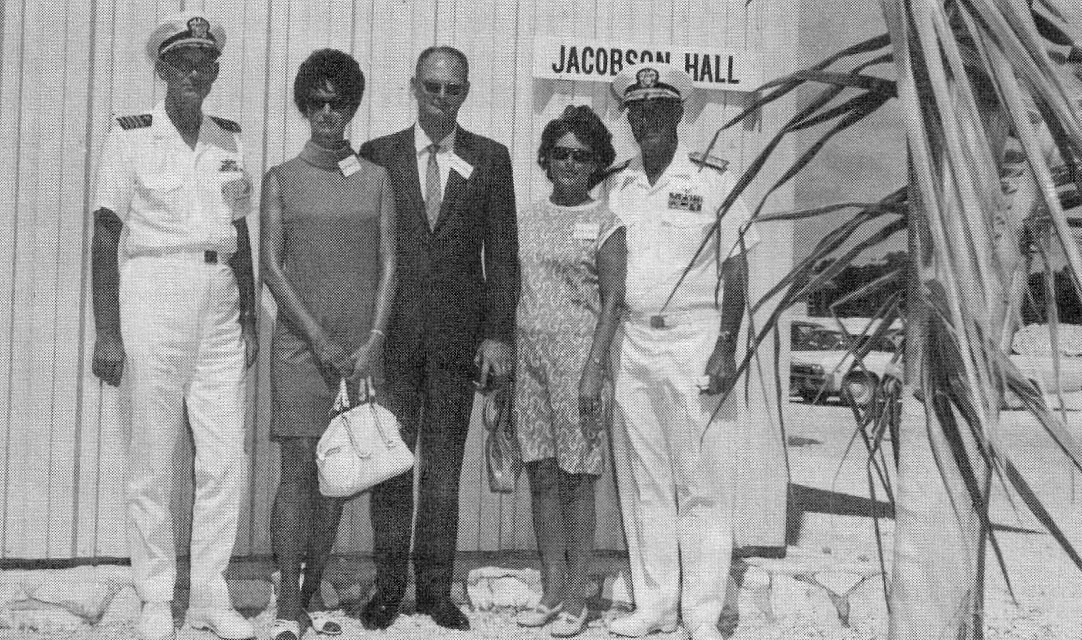 Captain Jackson, Mrs. Jan Jacobson Carter, George W. Jacobson, Jr., Mrs. Jacobson,
and Admiral Brush stand in front of Jacobson Hall after its dedication by Admiral Brush.


The area chosen for AUTEC was the Tongue of the Ocean (TOTO) located between the islands of Andros, New Providence, and Exuma Sound in the Bahamas. Chosen because of its ideal natural characteristics, and its climate which permits year-round operations, the TOTO is a U-shaped, relatively flat-bottomed trench approximately 20 miles (32 km) wide by 150 miles (240 km) long with a depth which varies gradually from 3,600 feet (1,100 m) in the south to 6,600 feet (2,000 m) in the north. Its only exposure to the open ocean is at the northern end, and except for this ocean opening, the TOTO is surrounded by numerous islands, reefs, and shoals which make a peripheral shelter isolating it from ocean disturbances, particularly high ambient noise which degrades undersea tests and evaluations.

A joint United States/United Kingdom Agreement signed in 1963 with the concurrence of the Bahamian Government, enabled the United States to develop this area of water and certain territory on the east coast of Andros Island, readily accessible to the TOTO, and there install equipment to build three offshore test ranges. Under this agreement, the Royal Navy has equal access to the test facility.

Construction of the Navy's Main Base and the downrange tracking sites on Andros Island began in March 1964, and the initial cadre of officers and men arrived by U.S. Navy LST in August 1965. In October of that year, Commander G. P Barney arrived as the first permanent Officer-in-charge, Andros Ranges, and the official dedication of AUTEC was held on 14 April 1966. The complex electronics installation was accomplished from fall of 1965 to fall of 1966, and in September 1966 RCA Service Company was awarded the Maintenance and Operations Contract for AUTEC.

Temporary U.S. Mainland Headquarters was opened at the Orlando Air Force Base in September 1966 with Captain L. L. Jackson, Jr., being assigned as Prospective Commanding Officer. Following a study of possible locations for a permanent headquarters the West Palm Beach, Florida area was chosen due to the combined facilities of the airport and the Port of Palm Beach, plus its close proximity to Andros Island.

On 26 February 1967, AUTEC was commissioned at West Palm Beach when Admiral E. J. Fahy, Commander, Naval Ship Systems Command, presented Captain Jackson with orders making him the first Commanding Officer, and AUTEC became an operational field activity. In May 1967, headquarters personnel moved from Orlando to West Palm Beach and established offices at the Palm Beach International Airport in the building which was formerly the Airport Terminal. In July 1967 at a Change of Command ceremony on Andros Island, Commander Barney was relieved by the new Officer-in-Charge, Andros Ranges, Commander Frank A. Smith.

First of the three ranges to become operational was the Weapons Range in 1966. This was followed by the Acoustics Range, a portion of which became operational in 1968 with a total operational capability anticipated by the end of 1969. First phase of the Sonar Range became operational in January 1968, and the final phases, were scheduled to be completed and operational by 1974.

Namesakes

Major facilities at AUTEC's Andros Island base were named in 1969 in honor of various Navy heroes:

Shafer Brothers Hall, the 116-man Bachelor Enlisted Quarters (BEQ), was named in honor of Benjamin N. and John D. Shafer, who were Chief Electrician's Mates aboard the USS Thresher when she was lost in 1963.
Jacobson Hall, the 250-man BEQ was named in honor of George W. Jacobson, Sr., Chief Motor Machinist's Mate who died in 1966. During World War II he served aboard the USS Pillsbury and received the Silver Star Medal for his valiant service during the capture of a German submarine off French West Africa in June 1944.
Mackey Hall, the BEQ Mess, was named in honor of Harry E. Mackey, Jr., an Aviation Machinist's Mate killed in action in November 1943. He was posthumously awarded the Distinguished Flying Cross for heroism and extraordinary achievement during operations off French Morocco.
Momsen Hall, the 75-man Bachelor Officer Quarters (BOQ), was named in honor of Vice Admiral Charles B. Momsen who died in May 1967. He was awarded the Distinguished Service Medal for developing the Momsen Lung.
Danenhower Hall, the BOQ Mess, was named in honor of Lt. Commander Sloan Danenhower who died in November 1967.He was a pioneer submariner who commanded the original USS Nautilus on an Arctic expedition in 1931. He was the son of John Wilson Danenhower, commander of the USS Jeannette.[4]
Roger L. Glei Chapel was named after Roger L. Glei who, in 1969 during the Vietnam War, left his protected armored position during heavy gunfire to aid an injured vehicle machinegunner and consequently sacrificed his own life. Previous to joining the U.S. Army, Roger's parents, Alfred and Ruth Glei, brought him to AUTEC in October 1966.

SOURCE: Atlantic Undersea Test and Evaluation Center

AUTEC
New Cables
..
..
Click map for full size version
SOURCE: USG_Underwater_Cable/AUTEC1.pdf
https://wsmrc2vger.wsmr.army.mil/rcc/manuals/USG_Underwater_Cable/AUTEC1.pdf
*Warning* Secure Site must accept certificate
DTIC Accession Number : ADA168652
Title : AUTEC Cable Route Dive Survey Site 7, Andros Island, Bahamas.
Descriptive Note : Final rept.
Corporate Author : TRACOR/MARINE INC FORT LAUDERDALE FL
Report Date : 16 AUG 1983
Pagination or Media Count : 59
Abstract :

Tracor Marine was tasked by Chesapeake Division Naval Engineering Command to perform a dive survey of an area off Site 7 AUTEC, Andros, Island, Bahamas. This survey was requested by Naval Underwater Systems Command (NUSC) newport, R.I. The purpose of this survey was to locate and plot a route for a new acoustic cable to be laid from Seaward to the Dolphin and from the Dolphin to the beach off High Point Cay. At present, a cable exists from the Dolphin to the beach (36 quad cable). The new cable will be at least 40 feet from the old cable to prevent cross talk between cables. During hurricane David, the old cable was pushed to the north. NUSC requested the following information be obtained during the dive survey, bottom types, depths, exact location of proposed cable route and obstructions, possibility of a cable burial, and possibilities of termination at Dolphin. Keywords: Photographs; Underwater photography; Color photography. (Author)
Descriptors :
*HYDROGRAPHIC SURVEYING, NAVY, CABLES, TRANSMISSION LINES, SURVEYS, OCEAN BOTTOM, UNDERWATER, UNDERWATER EQUIPMENT, ACOUSTIC RANGES, UNDERWATER PHOTOGRAPHY, COLOR PHOTOGRAPHY, BAHAMA ISLANDS, ELECTRIC CABLES, DIVING, CROSSTALK, ACOUSTICS, ROUTING, BURIED OBJECTS
Subject Categories : CIVIL ENGINEERING
Distribution Statement : APPROVED FOR PUBLIC RELEASE
SOURCE: dtic.mil/ADA168652
AUTEC
Berry Island Range
..
..
SOURCE: USG_Underwater_Cable/autec_berry_islands.pdf
https://wsmrc2vger.wsmr.army.mil/rcc/manuals/USG_Underwater_Cable/autec_berry_islands.pdf
*Warning* Secure Site must accept certificate
..
Credit: bahamashomesite.com
AUTEC's Bahamas location, with its semi-tropical climate, quiet acoustic environment, lack of commercial encroachment, and extensive capabilities, is an ideal year-round test facility. AUTEC is located on Andros Island because of its close proximity to the Tongue of the Ocean (TOTO), a unique, deep water basin, approximately 110 nautical miles (204 kilometers) long and 20 nautical miles (37 kilometers) wide, varying in depth from 4500-6000 feet (1.4-2 kilometers). See their website for more info......
AUTEC's geography, low vessel traffic, protected environment, minimal shipping noise, slight currents, and absence of large ocean swells provide unsurpassed operational security and the required diversity necessary to support the Navy's "from the sea" mission. - Source
Lockheed Martin, U.S. Navy Complete Testing Events
for Underwater Communications Program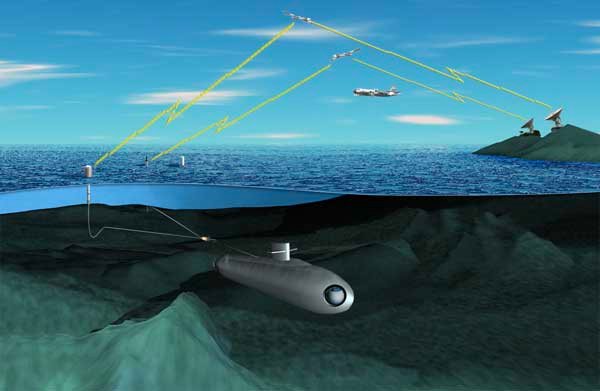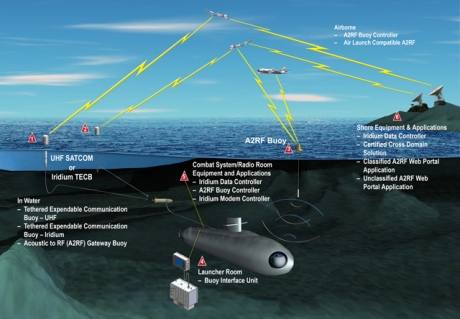 Press Release 2010

Lockheed Martin Mission Systems & Sensors (MS2) achieved two significant milestones in its effort to provide U.S. Navy submarines with two way communications while beneath the water's surface.

The U.S. Navy and MS2 completed a successful test readiness review for the Communications at Speed and Depth (CSD) program and then conducted in-water testing of the acoustic-to-radio frequency buoy, which can be launched from submarines or aircraft.

"The Communications at Speed and Depth program is providing key technologies that contribute to information superiority for the underwater warfighter," said Brent Star, the Navy's CSD Principal Acquisition Program Manager. "The team is verifying the systems meet our specifications and is making great progress in bringing this much-needed capability to the fleet on schedule."

The test readiness review is one of the final evaluations required by the Navy and allows the company to move ahead with the official testing program. A systems verification review is scheduled for later this fall. The CSD program remains on schedule for product delivery to begin early next year.

The recent buoy test was conducted at the Atlantic Undersea Test and Evaluation Center between a shore station, a research vessel and a submarine in the Atlantic Ocean near West Palm Beach, FL.

During the buoy test at the evaluation center, the system was successful in autonomous deployment and operation of both submarine and air variants. The buoy also exercised two-way, end-to-end acoustic, Iridium satellite and ultra-high frequency buoy interfaces and enabled a submarine to receive and read multiple messages sent from the buoys.

"Communications at Speed and Depth will allow submariners to communicate in real time without surfacing to periscope depth, where enemies can detect them," said Rod Reints, Lockheed Martin's senior program manager for CSD. "Thanks to our partnership with the Navy and the talented engineers working on this program, our team has taken this concept from idea to reality in only 18 months."

The Lockheed Martin-led CSD team includes Ultra Electronics Ocean Systems and ERAPSCO, a joint venture between USSI, Inc. and Sparton Corporation.

Lockheed Martin Press Release 2010

Underwater acoustic/optical communications and data connectivity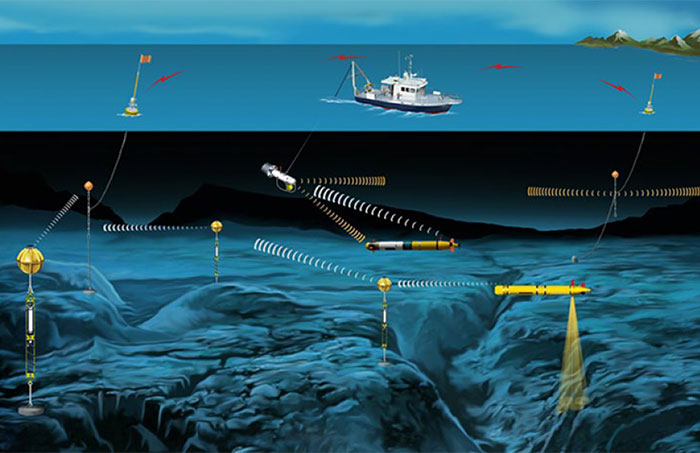 Moored, AUV-mounted, and towed communications systems employing broadband acoustic and
optical components would greatly enhance data transmission and autonomous data harvesting
in the subsea. (Woods Hole Oceanographic Institution)
Improved underwater communications is enabling humans and robots to work together more effectively to solve difficult problems that have not traditionally been amenable to fully automated solutions. Underwater robots differ from their terrestrial, aerial, and space counterparts in that once they are submerged, they cannot employ radio frequencies for telemetry because seawater attenuates electromagnetic radiation over very short ranges. WHOI engineers recently developed and patented a free-space, underwater optical communications system using light to transmit data through water.

This system provides unprecedented bandwidth (1 to 10 Mbit/s) at ranges up to 200 meters. Combined with additional underwater acoustic communication technology pioneered at WHOI, the system can also provide more modest bandwidths over much longer ranges. In a recent experiment, WHOI scientists employed a combination of optical and acoustic modems to conduct sampling and manipulation operations using an untethered ROV. These technologies are enabling a new generation of AUVs and untethered ROVs that can communicate with each other and with controllers on the surface without a physical connection and can offload large data files from autonomous instruments.

Principal Engineers
Norm Farr
Senior Engineer, WHOI

Lee Freitag
Senior Engineer, WHOI

Michael Jakuba
Research Engineer, WHOI

Last updated: March 4, 2013
SOURCE: Woods Hole Oceanographic Institution

Run Wired, Run Deep: Subs May Finally Get Online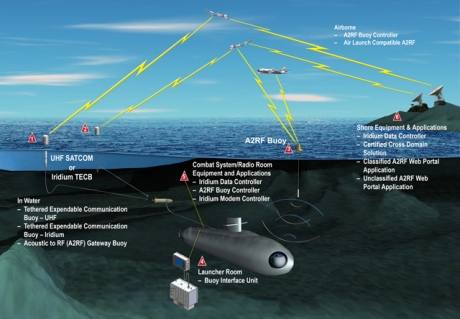 WIRED NEWS
AUTHOR: OLIVIA KOSKI SECURITY 07.08.10. 10:49 AM.


A NUCLEAR SUBMARINE in deep dive may be the last place on Earth where it's impossible to get a phone call, a text message or the day's dose of spam. But all that may soon be over, if a Lockheed-led program works out as planned.

The subs glide quietly along the depths of the ocean for weeks at a time, isolated from communication with surface dwellers save arcane one-way messages delivered at very low bit rates by Extremely Low Frequency (3-3000 Hz) or Very Low Frequency transmissions (3000-30,000 Hz). In order for subs to respond, or if communication beyond slow alphanumerics is required, they must come up for air or stick an antenna above the water.

"Most people think our submarines … can make phone calls whenever they want at a moment's notice … but our subs do not have that luxury," says Rod Reints, the man in charge of a Lockheed Martin-led program to bring submarine communications into the 21st century.

At the center of Communications at Speed and Depth program is new technology that could enable stealth submarines to be as connected to the Defense Department's Global Information Grid as any Navy ship. Within a few years, all U.S. Navy subs will be equipped with expendable high-tech communications buoys that will allow two-way real-time chat, data transfer and e-mail.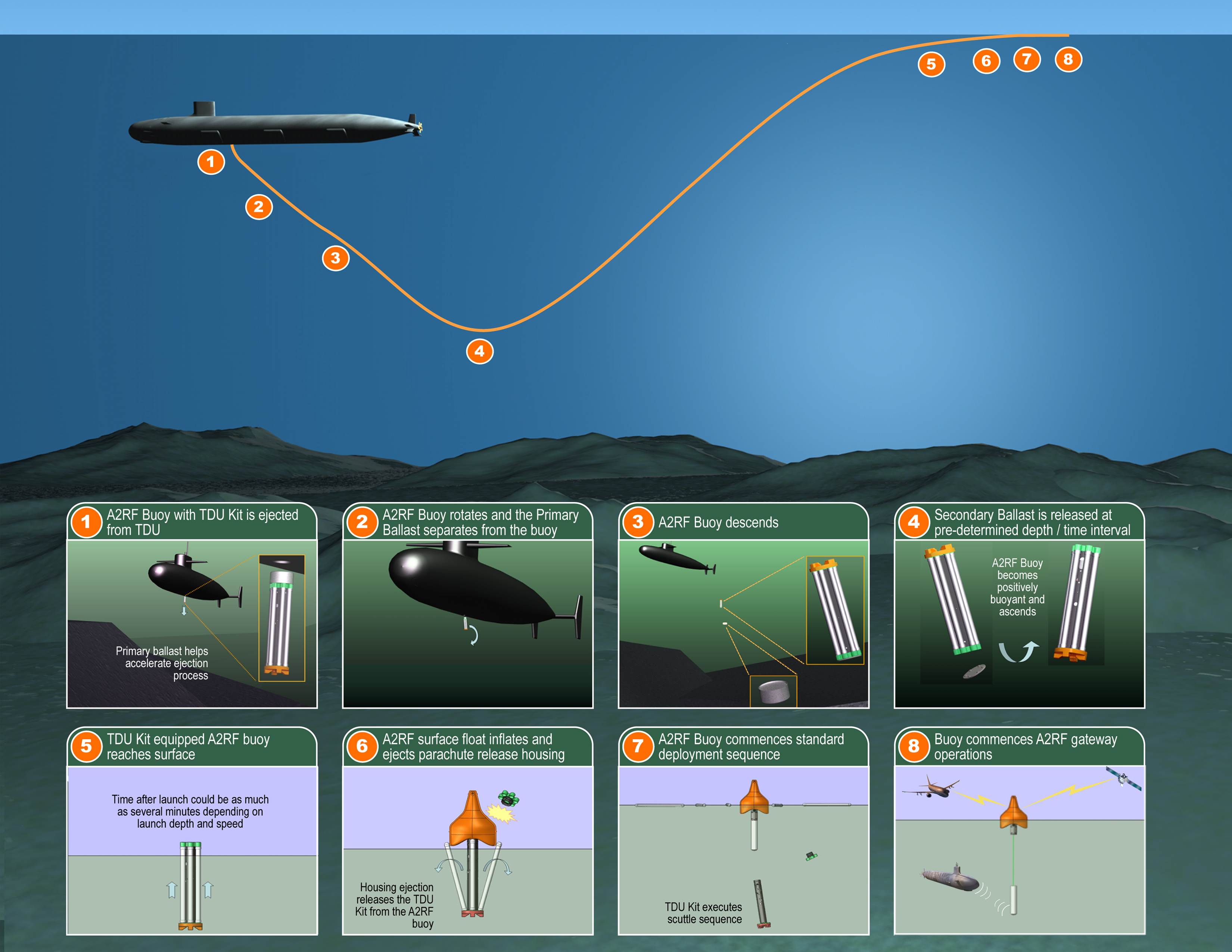 It seems so much simpler than other attempts at connection with underwater vessels.

Until a few years ago, mind-bogglingly large (as in 52 miles long) ELF and VLF antennas were the state-of-the-art in stealth submarine communication. At such low frequencies, the earth itself must be recruited to generate the signals, which is why subs can only receive, and not send them. The resulting antennas are tens of miles long and generate complaints from neighbors paranoid about possible electromagnetic health effects. There are only a handful of ELF transmitters in the entire world, two in the United States: one in Michigan and one in Wisconsin.

Then, there's the High Frequency Active Auroral Research Program, which tested out ways to use the upper atmosphere as an antenna replacement. The Alaskan array can excite the earth's ionosphere with high-frequency radio waves, inducing it to emit the extremely low-frequency bands needed to covertly penetrate saltwater.

Recent underwater-comm research has transitioned to higher frequency bands in more compact packages (compared to tens of miles, that's not difficult). Qinetiq's Seadeep will enable two-way communication with U.S. subs using airborne blue-green lasers. Raytheon's Deep Siren is a program of expendable pager buoys that can relay messages from satellites to submarines acoustically, but it can only transmit one way.

Comms at Speed and Depth will be the first two-way underwater communication system for submarines. The exact depth at which subs will be able to deploy the buoys is classified, but Reints asserts that the length of the buoy cables is "measured in miles, and it's long enough to allow the submarine to launch at significant depth and continue at normal operational speeds during a mission."


Three buoys are in development by Lockheed Martin and two subcontractors, Ultra Electronics Ocean Systems and Erapsco. Two of them are tethered to the sub and communicate with it using fiber optic cable. One is equipped for communication with the Iridium satellite constellation, the other for UHF. The third is a freewheeling acoustic-to-RF buoy. It can be dropped out of an aircraft or even launched out of a sub's trash shoot.

The buoy batteries for the tethered systems last for up to 30 minutes. Once it loses power, the buoy scuttles itself. The untethered buoys are designed to be deployed for three days.

Phone calls are technically possible with the new system. Reints says that although his team made an Iridium test call last April, "voice is not the intended purpose right now."

The first buoys are supposed to be delivered to the Navy for operational testing by January 2011.

SOURCE: WIRED NEWS

Atlantic Undersea Test and Evaluation Center (AUTEC)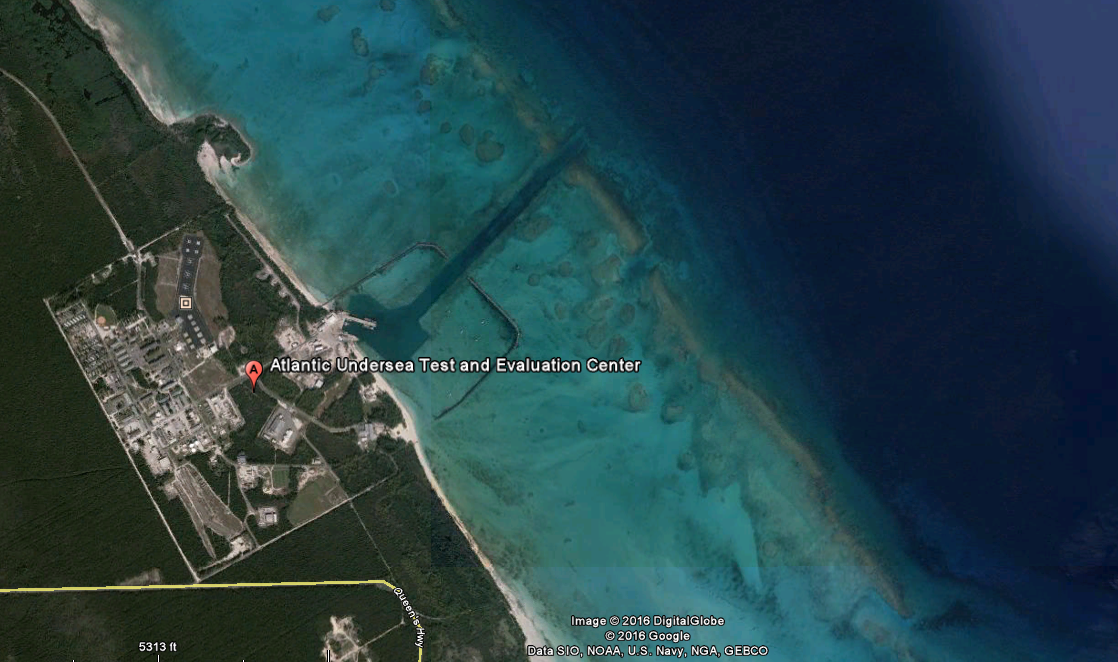 The Atlantic Undersea Test and Evaluation Center (AUTEC) range systems provide accurate underwater and in-air tracking for both firing platforms and targets using a variety of acoustic beacons and sensors. By taking advantage of the growing maturity of underwater acoustic telemetry, AUTEC can also provide two-way digital data communications with submarines operating at speed and depth. Systems already under test have demonstrated reliable, secure, two-way data transmission over several nautical miles at data rates exceeding one kilobit per second (Kbps). While this is neither wide-band nor long range, it adequately supports the current requirement, and expected advancements will bring higher data rates and longer ranges in the future.

The Atlantic Undersea Test and Evaluation Center (AUTEC) Operating Areas (OPAREA) are located in the vicinity of Andros Island, Bahamas. Facilities and instrumentation for deep-water test and evaluation are available. The complex consists of the following instrumented operating areas:

OPAREA T-1 through T-8
AUTEC Shallow Water OPAREA
Large Area Tracking Range (LATR)
The following non-instrumented danger areas which are the International Civil Aviation Organization (ICAO) equivalent to warning areas are located in this OPAREA:

Danger Area D-3002
Danger Area D-3003
AUTEC's semi-tropical climate, quiet acoustic environment, and extensive capabilities make it an ideal year-round test facility. AUTEC is located at Andros Island because of its close proximity to the Tongue of the Ocean (TOTO). TOTO is a unique deep-water basin approximately 110 nautical miles long (204 kilometers) and 20 nautical miles wide (almost 37 kilometers), varying in depth form 700-1100 fathoms (1280-2012 meters). The basin floor is relatively smooth and soft, with very gradual depth changes. TOTO is bounded on the west by Andros Island, to the south and east by large areas of very shallow banks that are non-navigable, and to the north by the Northwest Providence Channel. This unique geography results in very low vessel traffic, minimal distant shipping noise, an absence of large ocean swells, and slight currents, while providing operational security and easy access to deep water. These factors make the TOTO an excellent location for a test facility.

North of the TOTO, in the southern boundary of the Northwest Providence Channel, is a shallow-water plateau that varies in depth from 5-400 fathoms (9-731 meters). This convenient plateau, which is adjacent to the Berry Islands, is a prime choice for satisfying littoral warfare test requirements. Other surrogate shallow-water test sites off the east coast of Florida are also available.

AUTEC consists of two facilities. One is located in West Palm Beach, Florida and supports test planning, logistics, and administrative requirements. The actual test facility and range complex is located 285 km/177 nm southeast of West Palm Beach at Andros Island and the Tongue of the Ocean (TOTO) in the Bahamas. Access to Andros Island is limited and must be arranged through the Commander, Naval Undersea Warfare Center Division in Newport, Rhode Island. The AUTEC test facility on Andros Island covers approximately 1 square mile. The test range sea surface covers 2,670 nm2, and unlimited altitude airspace covers 835 nm2.

AUTEC aircraft make scheduled daily flights between West Palm Beach and Andros Town Airport. Commercial flights and special charters are available to supplement the AUTEC flights. Major test support facilities on Andros Island are located at Site 1 in the Command Control Building and Range Support Facility. The Command Control Building houses the range tracking displays and replay centers, the computer center, photo lab, communications center and the central timing system.


The Range Support Facility houses a torpedo post-run workshop, Mk 46/Mk 50 Intermediate Maintenance Activities (IMA), a Target Mk 30 IMA, a Mk 48 R&D Turnaround and extensive technical laboratory facilities. The complex includes electrical and physical calibration labs, a complete electronics maintenance shop, a dive locker, a precision machine shop/office and logistic spaces.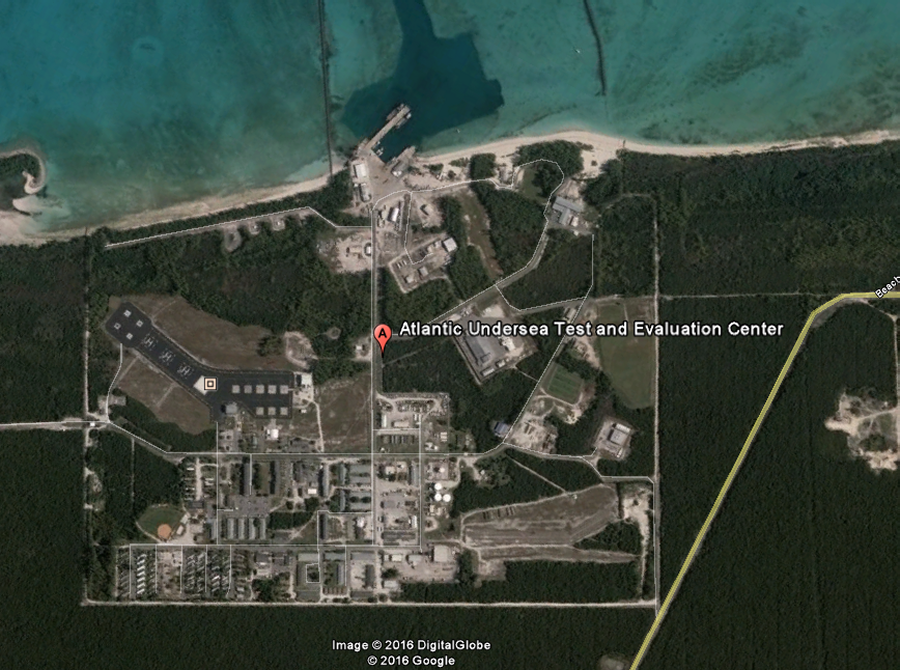 AUTEC has a 285 foot long concrete pier with a controlling depth of 17 feet (5.2 meters) at mean low tide. An adjacent wharf is approximately 240 feet long (72 meters) with a controlling depth of 15 feet at mean low tide. 440 VAC power is available at both locations (200 and 60 Amp at the pier and 60 Amp at the wharf). Facilities at the pier/marine area include fully equipped machine/fabrication and marine overhaul shops.

At Site 1 there are six Range User Buildings (RUBs) available to range users for assembling test equipment and equipment check-outs during a mobilization or dockside period. These staging areas are equipped with a variety of power sources, gantry cranes, compressed air and other minimal to maximum security capabilities. A fully equipped range user hanger, for ground maintenance and storage of helos, is located adjacent to the helo landing area.

Designed specifically as a high-precision RDT&E test facility, the Weapons Range is primarily used to gather highly accurate positional data required to analyze and assess the performance of undersea warfare weapons, weapons systems, and component subsystems. The range provides for 3-dimensional in-water and in-air tracking of multiple objects simultaneously, making it suitable for testing both shipboard and aircraft weapons systems.

The Weapons Range is roughly parallel to the east coast of Andros Island. It is the larger and more versatile of the AUTEC ranges, being over 9 nautical miles wide (17 kilometers) and 35 nautical miles lone (65 kilometers), and capable of tracking nine objects simultaneously. The range is supported by the Main Base (Site 1) and various smaller sites located to the south along the east coast of Andros Island. AN/WQC-2A Sonar Communications Sets provide underwater voice and command link coverage, while HF and UHF radio communications are available over the entire range.

In-air tracking extends to about 70,000 feet (21,000 meters) over the Weapons Range. In-air data are taken in the same coordinate system as the in-water tracking data, allowing multiplatform tests to be monitored in real time and facilitating post-test analysis. Surveillance radars are provided to assure safety.

The in-water portion of the Weapons Range is divided into two instrumented sections located about 2 miles (3.2 kilometers) apart. The larger section, located off Sites 3 and 4, consists of a rectangular array of hydrophones covering an area approxiamately 5 nautical miles wide (9 kilometers) by 15 nautical miles long (28 kilometers). The section provides in-water tracking over an area of up to 230 square nautical miles. The second section, located to the southeast of Site 1, provides a tracking area of about 120 square nautical miles. The two sections of the Weapons Range may be used either independently or simultaneously to support tests.

The primary mission of AUTEC's Fleet Operational Readiness Accuracy Check site (FORACS) is to perform precision measurements of the accuracy of target and navigation sensors installed on surface ships, submarines, and helicopters. AUTEC is certified by the Naval Sea Systems Command (NAVSEA) to perform Sensor Accuracy Tests and is affiliated with the NATO FORACS program. The eight participating NATO member nations are Canada, Denmark, Germany, Greece, Italy Norway, the United Kingdom, and the United States.

AUTEC has a variety of underwater acoustic measurement systems. For measuring the acoustic signatures of quiet vehicles, a high-gain vertical line array is deployed from a boat rigged for quiet operation. The line array is lowered to the running depth of the submerged vehicle so that the vehicle lies within the beamwidth of the line array. Other systems include a portable measurement system composed of a hydrophone, cable, and spectrum analyzer, all powered by batteries and operable from small boats; calibrated, broadband sonobuoys (AN/SQQ-58) for remote collection of ambient noise, biologics, etc.; an omnidirectional hydrophone located on the OHDF, supplemented by an array of sensors, for measuring the acoustic noise of buoyant ascent vehicles. These systems are often operated within the Weapons Range to conveniently measure the separation distances between test vehicle and hydrophone(s) which allow accurate range corrections.

AUTEC, the Navy's premier east coast in-water test facility, recently established a shallow-water test range and minefield to meet the need for operations and evaluation in the challenging littoral environment. Conveniently situated just 8 miles from our local landing site, the shallow-water facility is located 65 miles (120 kilometers) north of AUTEC Site 1 in the southern boundary of the Northwest Providence Channel in the Berry Islands, Great Stirrup Cay, Bahamas.

SOURCE: Globalsecurity.org

Related Links:
BUTEC - British Underwater Test and Evaluation Centre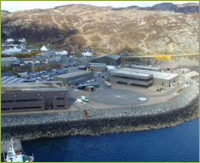 The British Underwater Test and Evaluation Centre (BUTEC) is a range used to evaluate the sensors and aural emissions of British submarines. It is operated on behalf of the Royal Navy and the Ministry of Defence by QinetiQ. During the 1970s the range was used to test torpedoes and other equipment designed for submarine operational use.

BUTEC is located in Inner Sound between the northern east coast of the island of Raasay and the Applecross peninsula on the west coast of the Scottish mainland. The range consists of a noise range to the east of the isle of South Rona, and a torpedo testing range located in the centre of the Inner Sound between the isle of Raasay and Applecross on the mainland. The noise range is about a mile long and divided into blocks 50 yards wide (labelled A to Z) within which is a large array of sensors. A submarine is expected to move through the middle of the range (blocks M or N) repeatedly as the shore-based scientific team on Rona analyse the sound of the submarine. If the boat does not achieve its expected aural signature, it is not permitted to start active patrols.

The Range Terminal Control Building (including jetty and heliport) are situated at the eastern edge of the range, adjacent to the Sand archaeological site, about 4 miles north of Applecross. Outlying installations for the noise range are located on the island of Rona. The main logistics and administrative centre is the Shore Support Base, at Kyle of Lochalsh.

The torpedo testing range is covered by bylaws which ban any underwater activity by fishermen within the range area and trawling activities are also banned within the whole of the Inner Sound area.

Upcoming range activities are published in the local newspaper West Highland Free Press. When firings are taking place, safety vessels are placed around the range area. Firings are done by submarines, helicopters, aircraft and boats. The torpedoes are equipped with acoustic tracking and measuring equipment in place of warheads. Other trials are carried out here including the use of sonars and exercises by Minehunters.

There was controversy when a high-powered sonar device was tested on the range in 2002, which had been blamed for the deaths of whales and dolphins and that had been banned in the USA.

SOURCE: BUTEC

Related Links:

Papers:
FAIR USE NOTICE: This page contains copyrighted material the use of which has not been specifically authorized by the copyright owner. Pegasus Research Consortium distributes this material without profit to those who have expressed a prior interest in receiving the included information for research and educational purposes. We believe this constitutes a fair use of any such copyrighted material as provided for in 17 U.S.C § 107. If you wish to use copyrighted material from this site for purposes of your own that go beyond fair use, you must obtain permission from the copyright owner.
~ MENU ~