John Lear
Blue Berets ~ Camp Hale
By John Lear posted on facebook January 23 2018

I wrote this article about 25 or 30 years ago. Many today have never even heard of the 'Blue Berets'.

In William S. Steinman's book, "UFO Crash at Aztec; a well kept secret", copyright 1986 UFO Archives, P.O.Box 17206, Tucson, Arizona 85710 ISBN 0-934269-05-X. Appendix 9 titled "Blue Berets" covers an organization of highly skilled specialized, all service, equipment operators and transportation movement specialists.


"These men were especially trained and carried Equipment Operators Licenses permitting them to check out and use all kinds of heavy lifting, transportation and even earth moving equipment. Their licenses were special, service-wide authorization allowing them to go into any motor or equipment pool and commandeer any and all equipment items they might need. They were given priority over all other operations when they were on a call, and they answered only to their team leader who bypassed Service levels and reported directly to somebody above that."

These teams were organized and equipped to recover crashed interplanetary craft such as flying saucers, spheres, cigar and oblong shaped, or any other craft from another planet, without the knowledge of the public or press.

"The Blue Berets were reportedly organized at Randolph air Force Base at San Antonio, Texas – across town from the big San Antonio air Depot, of the Air Material Command.

Business picked up after 1947 and this group expanded rapidly. Their specialists came from all branches of the service. Some could operate tanks and tank retriever vehicles. Others could operate boats and barges, and cold handle dock and floating cranes and lifting gear. They had members who could operate railroad equipment and switch engines, and who knew how to load, move and operate rolling stock.

The Blue Berets maintained up-to-date tables of equipment available at all government equipment parks, pools and organizations, and knew the ladder of authority for each.

By the beginning of 1948 Blue Beret teams had been decentralized to be more available for rapid deployment against any alert, hence the quick reaction from Camp Hale in Colorado in the case of the Aztec UFO crash. By them the equipment teams had been augmented by security control teams as well, who knew exactly what to do and could take complete charge of a situation and control all aspects of it. One of their officers was Captain R.V. Painter."

The stories of their crash retrievals are legendary, driving three low-boys at night in the pitch black, in tight formation at 60 miles an hour across fields, roads, streams, loaded with a hundred foot diameter extraterrestrial disc with forward and point teams, cutting fences, bridging rivers, blocking highways and follow up teams rebuilding fences, unblocking highways and covering up tire tracks and ruts. From where and to where is know by very few people.

"An interesting sidelight on the Camp Hale special mission came to light in 1982 when Bill Moore and Hal Starr went to the area to follow up on a lead from a long time friends of Starr's. It seems that this friend of Hals had mentioned seeing an official-looking "Historical Marker" along the highway in Colorado near the abandoned ruins of what was once Camp Hale, a former United States military facility. According to the marker, the base had once been involved with "interplanetary vehicles"… Nobody knew who had put the sign up. When the ranger station at Mintern, Colorado determined that it was not a State sign, they took it down. (One of Army's secret IPU teams was based there.)

Camp Hale was the official home base of the 10th Mountain Division during World War II. The sign indicated that this base was one of three sites used by the "Interplanetary Vehicles Group". The sign carried a map showing the localities of UFO detectors and a quarantine area."

I have misplaced my photo of the IPU sign. Maybe some industrious soul could find it and post.

Continued below....


This is a picture of the sign on page 494 of "UFO Crash at Aztec" by Bill Steinman.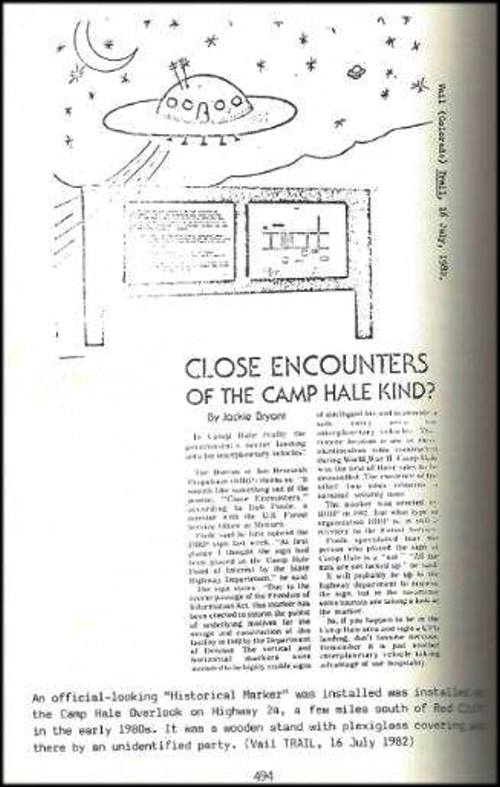 "An official-looking "Historical Marker" was installed at the Camp Hale Overlook on Highway 24, a few miles south of Red Cliff in the early 1980's. It was a wooden stand with plexiglass covering put there by an unidentified party. (Vail TRAIL, 16 July 1982).

The text reads, "CLOSE ENCOUNTERS OF THE CAMP HALE KIND? By Jackie Bryant.

Is Camp Hale really the government secret landing area for interplanetary vehicles"

The Bureau of Ion Research Propulsion (BIRP) thinks so. It sounds like something out of the movie "Close Encounters" according to Bob Poole a forester with the U.S. Forest Service in Minturn.

Poole said he first noticed the BIRP sign last week. "At first glance I thought the sign had been placed at the Camp Hales Point of Interest by the State Highway Department." he said.

The sign states "Due to the recent passage of the Freedom of Information Act, this marker has been erected to inform the public of the underlying motives for the design and construction of this facility in 1942 by the Department of Defense. The vertical and horizontal markers were intended to be highly visible signs of intelligent life and to provide a safe entry area for interplanetary vehicles. This remote location is one of thee identification sites constructed during World War II. Camp Hale was the first of these sites to be dismantled. The existence of the other two sites remain a national security issue.

The marker was erected by BIRP in 1982. But what type of organization BIRP is, is still a mystery to the Forest Service.

Poole speculated that the person who placed the sign at Camp Hale is a "nut". "All the nuts are not locked up" he said.

It will probably be up to the highway department to remove the sign, but in the meantime some tourists are taking a look at the marker.

So if you happen to be in the Camp Hale area and sight a UFO landing don't become nervous. Remember it is just another interplanetary vehicle taking advantage of our hospitality.

The second photo is of the inside cover of my copy of UFO Crash at Aztec.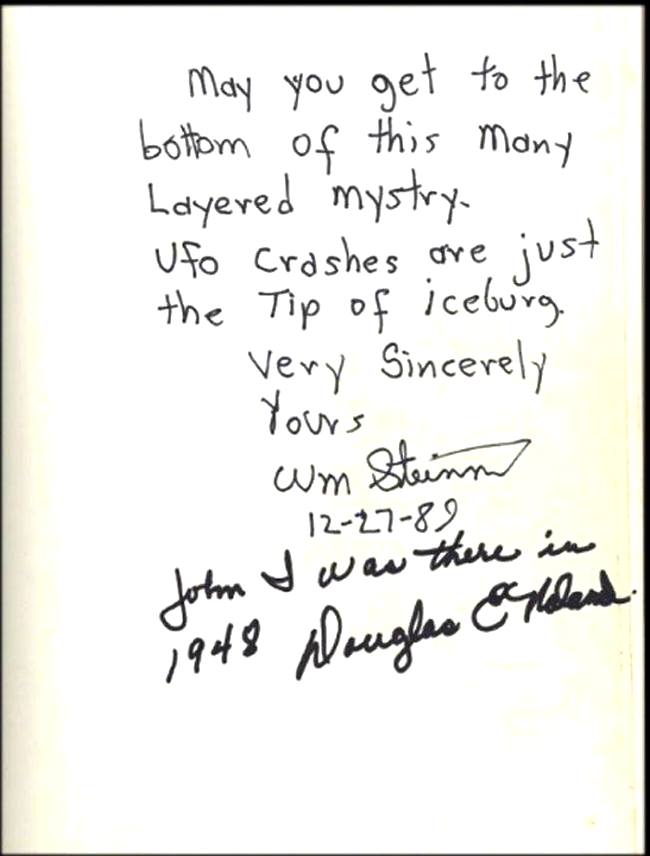 Bill Steinman wrote, "May you get to the bottom of this many layered mystery. UFO crashes are just the tip of the iceberg. Very sincerely yours WM Steinman 12-27-89.

The book says Limited First Edition and then says Book No. of 1000. (no book number stated)

The autograph below Bills says:

John, I was there in 1948 Douglas E. Noland.

Doug was doing my ore assays for my gold mine and mentioned that he was right there, working for El Paso Natural Gas laying pipe when the saucer came over the hill and crashed in the field they were working in.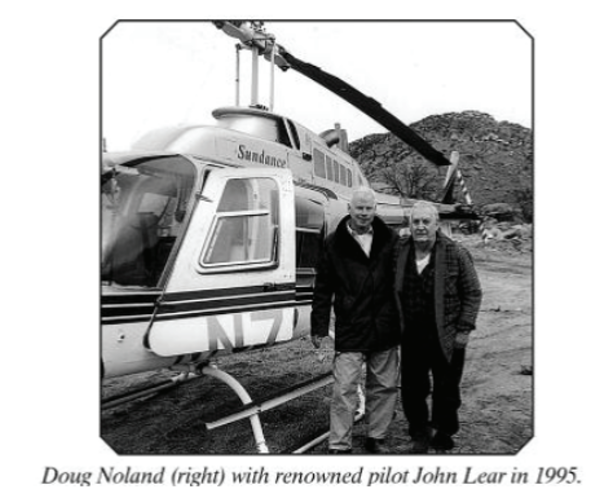 They climbed up and looked in and there were ET's about 3 ft. high and looked burnt. They took a welding torch and tried to cut a hole in the domed window but the window didn't even get warm.

I made a taped interview with Doug and passed it onto Scott Ramsey who was writing a book with Dr. Frank Thayer about the crash at Azrec.

I happened to be working with Dr. Thayer today on a developing UFO scam which I will tell you about when it comes to a head. I told Dr. Thayer that I was posting about the Crash at Aztec and he just emailed me:

One of my top ten CDs is the taped interview with Doug Noland.

I copied this off google a few minutes ago.

The Aztec UFO Incident - Scott and Suzanne Ramsey with Dr. Frank ...


1. Also included are previously unseen documents from the CIA, FBI, U.S. Air Force, and U.S. Army that constituted a cover-up whose sole purpose was to surround the Aztec story with a smokescreen of lies, misinformation, and destructive allegations. Authors: Scott and Suzanne Ramsey, Dr. Frank Thayer Preface by: Stanton ...



John Lear:

In addition to the 2 missing IPU sites there is another one we have never found. In the late 40's and 50's if someone actually saw or interacted with an ET they would take him, his whole family, the dog, the cat and the parakeet to a secret city on the Nevada/Utah border never to be seen again by friends, family etc. Hundreds, maybe a thousand lived in that city and a close watch was kept on them so that they couldn't tell their story to anybody except those in the city.

I have searched on maps, charts, anything for any trace of this city. The Nevada/Utah border is about 350 miles of totally uninhabited countryside. Even after 70 years there has got to be something remaining. They almost certainly had to have an airport about 5000 feet long. When they dismantled everything I am thinking sometime in the 60's they had to have left something. And what did they do with the people still living? Could it have been totally underground? I have not heard a single word about this city. Yes, there is plenty of evidence that it existed mostly in the Leonard Stringfield monographs and I have all of them and used to visit with Leonard in Cincinatti.

Background Information

CAMP HALE, COLORADO
HISTORY OVERVIEW

Camp Hale is a former military training facility located to the north of Leadville, Colorado. The camp was constructed during the summer of 1942 over a 7 month period, and it is best known for acting as the training grounds for the Tenth Mountain Division.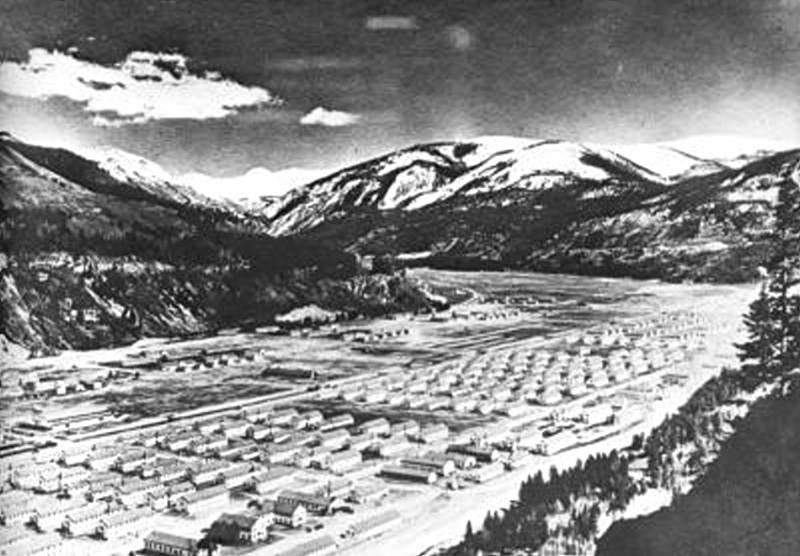 This site was chosen for the camp because of its railroad accessibility, plentiful snowfall, and surrounding mountain terrain. Camp Hale was named for Brigadier General Irving Hale. Approximately 14,000 out of the 16,000 soldiers that were stationed here were belonged to the Tenth Mountain Division.

The camp site is located at an altitude of approximately 9,300 feet. Camp Hale was as large as 247,243 acres at its peak. Approximately 70 ski instructors were recruited to teach ski techniques to the troops on Cooper Hill.

CONSTRUCTION

Prior to being named Camp Hale, this area was referred to as Pando, Colorado. Planning for the construction of the camp was initiated on April 3rd, 1941. By April 7th a group of contractors had been selected for the job. A report filed by the Eighth Corps Board of Officers on June 23rd, 1941 gives an assessment of the Pando site. This report suggests that the army had not yet decided on a final camp site at this point.

The original plans for the army post called for enough housing to accommodate 20,353 officers and troops. This number was soon adjusted to 16,392 officers and troops (Anticipated).

87 temporary baracks and 12 mess halls were built to facilitate the construction workers. As the project neared completion, some of the facilities that were designed to be used by troops were utilized by the construction workers as needed. Some workers lived in the nearby town of Leadville, while others lived in off-site camps and trailers. In total; approximately 11,425 workers were on-site at the peak of construction.

State Highway 24 ran directly through the intended camp grounds. This highway was relocated to a new route that traveled around the camp.

MILITARY USE

Military units that used Camp Hale for training included;

10th Mountain Division
38th Regimental Combat Team
99th Infantry Batallion
Central Intelligence Agency

CIA TRAINING OF TIBETAN TROOPS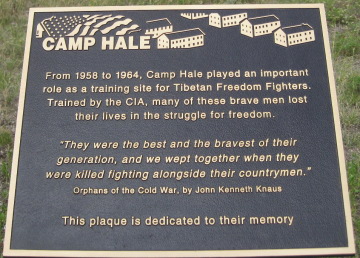 The Central Intelligence Agency used Camp Hale to train Tibetan freedom fighters from 1958 to 1964. A plaque commemorating these CIA agents and Tibetan fighters can be found on the site of the former Camp Hale. The government has never officially acknowledged that this training took place. The historical record has been established by the accounts of the Tibetan nationals that trained here, and the CIA officers who trained them.

P.O.W. CAMP

This camp played a role as a prisoner of war camp during World War 2.

The most notorious incident at Camp Hale occurred in Feb. of 1944 when Private Dale Maple helped 2 Nazi war prisoners escape to Mexico from the camp. Maple was caught and eventually sentenced to life in prison for his crimes.

WEATHER AND WINTERIZATION

The Weather Bureau estimated that the local annual snowfall average at the time of construction was 163.5 inches. Minimum winter temperatures at construction had been calculated to be as low as approx. 40 degrees fahrenheit. Summer temperatures were predicted reach their max. at approx. 90 degrees.

Approximately 425 camp vehicles had kits installed that would heat the battery and keep the motor warm while the vehicle is turned off overnight.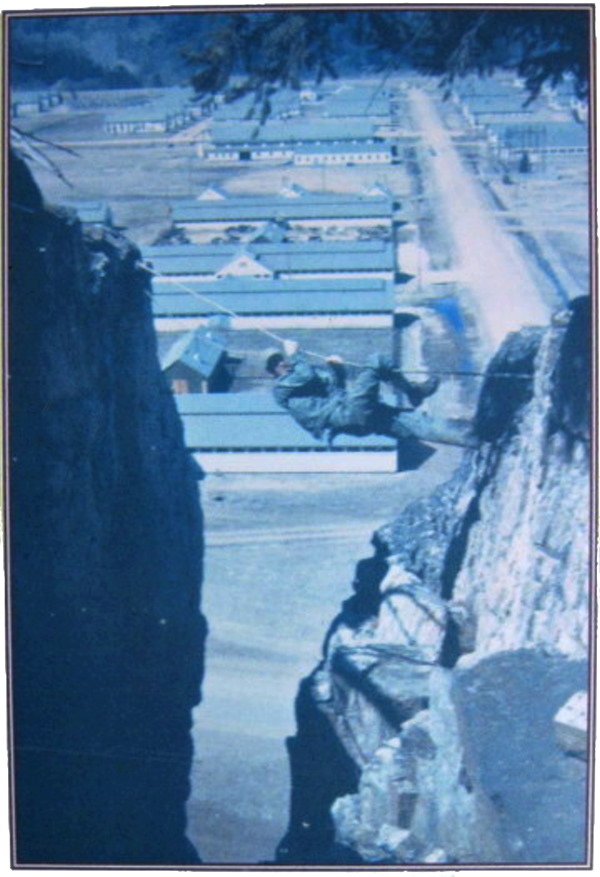 CAMP FACILITIES

The following facilities could all be found at Camp Hale after construction was completed. Much of the information below is taken from the 1942 job completion report which can be found here Camp Hale Report.

T-Bar and 4 ski trails
Motor vehicle Repair Facility
Animal grain and hay storage
655 parking spots + enlisted men parking
Motor fuel, coal, water storage
Telephone lines
Sewage treatment plant
Ordinance warehouses
Various other warehouses
Admin buildings for 423 people
Cold storage building
Bakery
Ice making plant
Two incinerators
Recreation theaters and clubs (Approx. 151,000 sq. ft. total)
Pistol range
Dental clinic
Post office
Fire stations and infirmaries
Due to the isolation of this camp, some facilities operated in a capacity that was greater than what would be expected at a different army post. The motor vehicle repair facility was responsible for maintaining all vehicles at the camp, rather than specializing in a mechanical niche.

CAMP HALE NEWSPAPER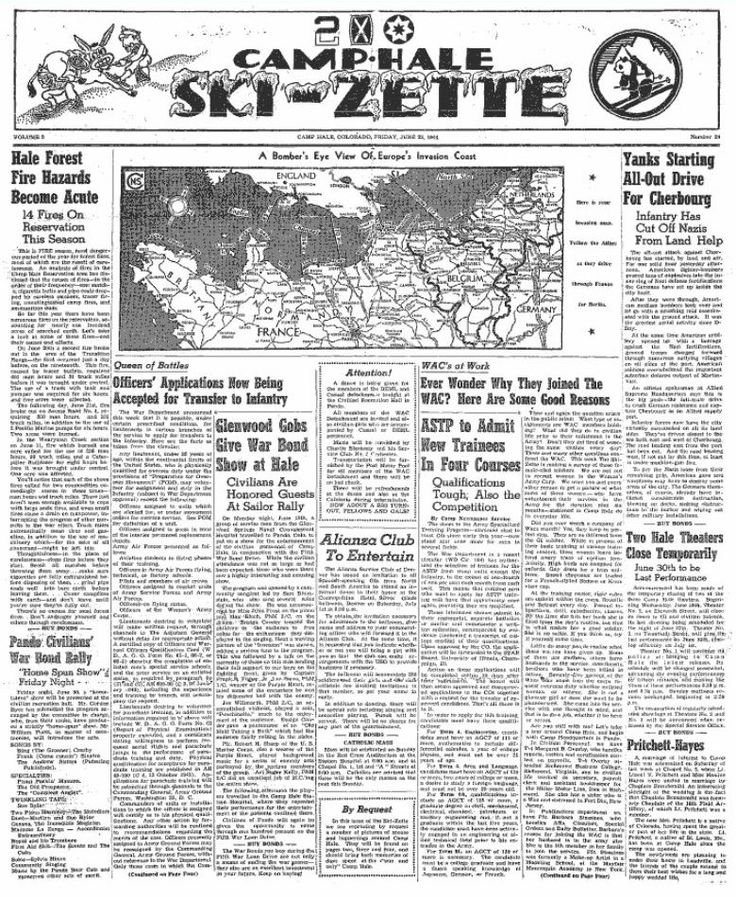 The first edition of the Camp Hale newspaper was published on Dec. 18th, 1942. The newspaper was published without a title. A contest was created with a $5 prize being offered to the serviceman who submitted the best title.



The camp newspaper was named the Camp Hale Ski-Zette for its second issue. This publication was not much different than any regular newspaper that would have been published at the time. You would find information about upcoming events, religious services, and changes around the military camp. As the war effort moved forward, soldiers could read about allied force victories on the front-line.

The Camp Hale Ski-Zette was published once per week on every Friday. It is unclear exactly when the newspaper stopped publishing new volumes. The last volume that the Colorado Ski Authority has been able to locate in the historic archives was published on June 3rd, 1944.

You can see a screen shot of the front page of the Ski-Zette below. A link to full versions of this newspaper and other historic Colorado newspapers can be found on this page: Colorado History Resources.

CAMP HALE TODAY


Visitors to the area can still see the concrete remnants of the old military structures that were in place here. There are several dirt roads that allow visitors to explore the former Camp Hale area. Movement is restricted here due to the presence of old military ordinances that can still be found in certain areas. Camp Hale is the site of an ongoing effort to remove contamination and munitions that remain from this army post.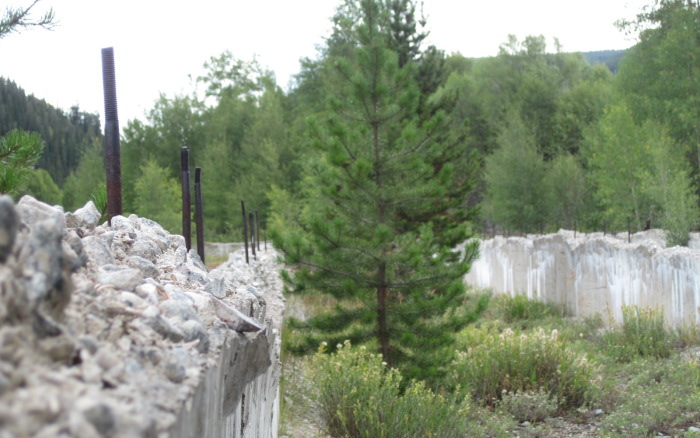 Remnants of an old building structure at Camp Hale, Colorado.


Camp Hale is located in the White River National Forest. There are several campgrounds near the main Camp Hale area where camping is permitted.

SOURCE: Colorado Ski Authority CAMP HALE, COLORADO

Related Links:

BIRP - Bureau of Ion Research Propulsion (BIRP) Interesting... leads me to: "The NASA Glenn Research Center, leader in ion propulsion technology development since the late 1950s, with its first test in space— the Space Electric Rocket Test 1— flying on July 20, 1964." Say WHAT? ION engines tested in space in 1964? So THAT is where Gene Roddenberry got the Star Ship Enterprise engines from

FAIR USE NOTICE: This page contains copyrighted material the use of which has not been specifically authorized by the copyright owner. Pegasus Research Consortium distributes this material without profit to those who have expressed a prior interest in receiving the included information for research and educational purposes. We believe this constitutes a fair use of any such copyrighted material as provided for in 17 U.S.C § 107. If you wish to use copyrighted material from this site for purposes of your own that go beyond fair use, you must obtain permission from the copyright owner.
~ MENU ~