Part 2
Antigravity and Man Made Saucers
Posted by brotherthebig, on April 3, 2007 at 23:32 GMT
ATS Thread: Antigravity or Coanda Effect man made saucers or aircrafts? (1)
[post #2/5]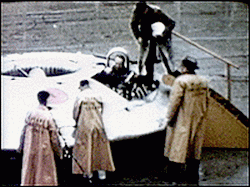 Antigravity is a difficult and controversial subject:
Info Sources:
Wikipedia
Los Alamos National Laboratory

Very important in my search, was finding the old thread Huge archive of e-books – Military from JAK, with a link for a site plenty of e-books, and appears that they have added more e-books over the years.
So in Venik's Aviation e-book library we can find many free e-books in different fields (I think of interest to many ATS members), and some on antigravity, also related to saucer projects.
Electrogravitics Systems is a book from 2005 that also includes aviation reports extracts from 1954 and after, and an analysis about the assumption that this could be used in the B2 bomber propulsion systems.
One book that is almost always referred in any (more recent) antigravity discussion is The Hunt for zero Point from Nick Cook (Note: see also a refutation on some parts of this book) . I haven't had time to read it yet, and the others books are significant as well, but I am glad to share and maybe they will be helpful to someone. The Bell is described here and associated with antigravity.
A very good reference is American Antigravity site, and this collection of articles in a PDF from Venik's antigravity page.
Hitler's Flying Saucers online book, has ample information and photos. Do not forget the video "stranger than fiction the real flying saucers", referenced in #1.
Antigravity E-Books:
Antigravity Websites:
Here is a collection of videos related to antigravity and energy systems
Articles from Popular Mechanics:
Other Links
Do you think that we have already an antigravity plane or saucer?
More ATS threads on antigravity:
Thank you.
brotherthebig.