The Insiders
Robert T. Bigelow
Bigelow Aerospace
..
BIGELOW AEROSPACE
LAS VEGAS, NEVADA
Las Vegas • Houston • Washington, D.C
Genesis 1 - The First Small Step for Space Hotels
..
Copyright Bigelow Aerospace. All rights reserved.
By Erich Habich (Jul 13, 2006)
Webmaster

---
Robert T. Bigelow has a vision: to enable privately funded expeditions a stay in space. The method to achieve his goal is based on the "TransHab" concept, the patents to which Bigelow bought in 2000 from NASA. Bigelow's track record as entrepeneur is well proven as founder and owner of the Budget Suites hotel chain.
The Genesis 1 is the first of two 1/3 scale prototype models of the future line-up of space habitats, which will range from the Galaxy class, to the BA330, which will offer 330m³ of space (ISS has 425m³ volume).
Genesis 1 is scheduled to remain in space for 5 years, at a height of 500km (310miles). During this time the hull will be tested, which in the final BA330 version will composited of Kevlar and have 40cm (16in) thickness.

NASA senior engineer William Schneider, who conceived of the TransHab concept, is not in doubt that by 2010 the first Space Hotel will be orbiting Earth. Of course, to reach the commercial space complex the transportation must be sorted out.

Robert T. Bigelow is therefore the initiator of "America's Space Prize", which will pay $50 Million US Dollars for 2 successful dockings with his Space Hotel in 2010: the details of the competition can be found here.

Images in this section copyright Bigelow Aerospace. All rights reserved.
Further information:
http://news.bbc.co.uk/1/hi/technology/5173388.stm
http://www.mengr.tamu.edu/research/buildingaspacehotel.html
http://www.raumfahrer.net/raumfahrt/raumstationen/bigelow.shtml
http://www.raumfahrer.net/news/raumfahrt/13072006153921.shtml
Update:Bigelow Aerospace successfully launched and deployed Genesis II on the 28th of June 2007.
Please visit the Bigelow Aerospace website for the latest news.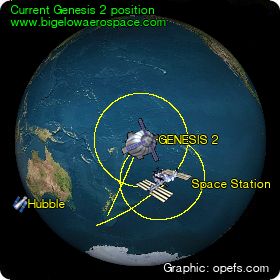 Launch Genesis 2 webcam window
(Genesis position updates every 60 seconds)
A simple javascript means that you don't have to reload this page manually.You can use the images
http://www.ehabich.info/images/synchro/genesisposition.jpg
http://www.ehabich.info/images/synchro/genesis2position.jpg
on your website, to show your visitors where Genesis is.

This work is licensed under a Creative Commons Attribution-NonCommercial-ShareAlike 2.0 Germany License.
"Our Planet Earth From Space" concept and code implementation - Copyright Erich Habich © 2003-2004. The images on this website are offered under a Creative Commons Lizenz, the limitation being that you must not download the same image repeatedly in intervals of more often than once every 20 min. Questions ?:
Genesis I
Launched July 12, 2006
..
Copyright Bigelow Aerospace All rights reserved
Launched on a Dnepr rocket (an ICBM converted for commercial use) on July 12, 2006, Genesis I began Bigelow Aerospace's journey to revolutionize space commerce. The subscale technology demonstrator, which inaugurated the ISC Kosmotras Space and Missile Complex near Yasny, Russia, met with unprecedented success and was a unique technical, legal and financial pathfinder in a number of ways. Specifically, Genesis I:
Represents the first expandable space habitat technology on orbit.
Was the first spacecraft produced by Bigelow Aerospace.
Marked the first commercial launch ever to take place at the ISC Kosmotras Space and Missile Complex near Yasny.
Represented the first launch of a single, large payload aboard the Dnepr, taking full advantage of this innovative "swords into plowshares" transportation system.
Likely represented the lowest-cost mission of its kind in the history of aerospace, including spacecraft fabrication and the launch itself.
Genesis I proved that an expandable habitat can survive the rigors of the launch environment and validated Bigelow Aerospace's fundamental designs and deployment strategy.
The spacecraft remains in orbit and is operational today, continuing to produce invaluable images, videos and data for Bigelow Aerospace. It is now demonstrating the long-term viability of expandable habitat technology in an actual orbital environment.
Genesis II
Launched June 28, 2007
..
Copyright Bigelow Aerospace All rights reserved
Genesis II was successfully launched from the Kosmotras Space and Missile Complex near the town of Yasny on June 28, 2007. Like its predecessor, Genesis II is testing and validating the technologies necessary to construct and deploy a full-scale, crewed, commercial orbital space complex.
Although externally, Genesis II may look like an exact duplicate of Genesis I, the similarities end there. Genesis II contains numerous systems not flown on its predecessor such as additional cameras, sensors, a Biobox, a reaction wheel and the interactive Space Bingo game. Moreover, Genesis II afforded members of the general public the chance to participate in BA's efforts via the "Fly Your Stuff" commercial pilot program.
Genesis II contains 22 cameras on both the interior and outside of the spacecraft - nine more than Genesis I. The vision system includes articulated cameras with dual FireWire and Ethernet interfaces, as well as a wireless boom camera for exterior shots. Space-to-ground communications are provided by UHF, VHF and S-band antennas.
Magnetic torque rods, GPS and sun sensors and a reaction-wheel system provide attitude control and stabilization, as Genesis II does not have any propulsion of its own.
Since its launch, Genesis II has been providing a cornucopia of data and images back to Bigelow Aerospace's Mission Control Center in North Las Vegas, Nevada. It has also successfully tested the world's first in-orbit image projection system and will continue to set the stage for BA's future manned orbital complexes.
..
Copyright Bigelow Aerospace All rights reserved
Bigelow Aerospace and Kosmotras
..
May 2004 - Bigelow Aerospace and Kosmotras have executed a Non-Technical Framework Agreement, that, pending U.S. Department of State approval of a Technical Assistance Agreement, will allow Kosmotras to launch a BA spacecraft in 2006 aboard the Dnepr Launch Vehicle. The Framework Agreement also provides BA with the option to purchase several additional launches aboard the Dnepr in the future.
On July 12th 2006 at 18:54 Moscow time, the US manufactured Genesis-1 spacecraft was successfully launched into the cusomter's predetermined orbit, aboard a Dnepr rocket from Yasny launch base. The launch was prepared and performed by specialists of RF Ministry of Defense and industrial enterprises of Russia and Ukraine under the leadership of International Space Company Kosmotras.
The Dnepr launch vehicle is a converted SS-18 ICBM. This was the inaugural launch from the new Yasny launch base, located in the Orenburg region of Russia, and was also the first launch for Bigelow Aerospace.
Las Vegas, NV 03/27/07 – Bigelow Aerospace announces its second pathfinder space complex module Genesis II has been shipped to a launch site in Russia and is expected to be lofted into orbit in mid-April. Genesis II will be enclosed in a payload shroud and put atop a Dnepr rocket at the ISC Kosmotras Space and Missile Complex near Yasny, Russia for a launch window that begins on April 19.
Genesis II was successfully launched from the Kosmotras Space and Missile Complex near the town of Yasny on June 28, 2007.

SOURCE: http://www.bigelowaerospace.com/ and http://www.kosmotras.ru
FAIR USE NOTICE: This page contains copyrighted material the use of which has not been specifically authorized by the copyright owner. Pegasus Research Consortium distributes this material without profit to those who have expressed a prior interest in receiving the included information for research and educational purposes. We believe this constitutes a fair use of any such copyrighted material as provided for in 17 U.S.C § 107. If you wish to use copyrighted material from this site for purposes of your own that go beyond fair use, you must obtain permission from the copyright owner.
~ MENU ~